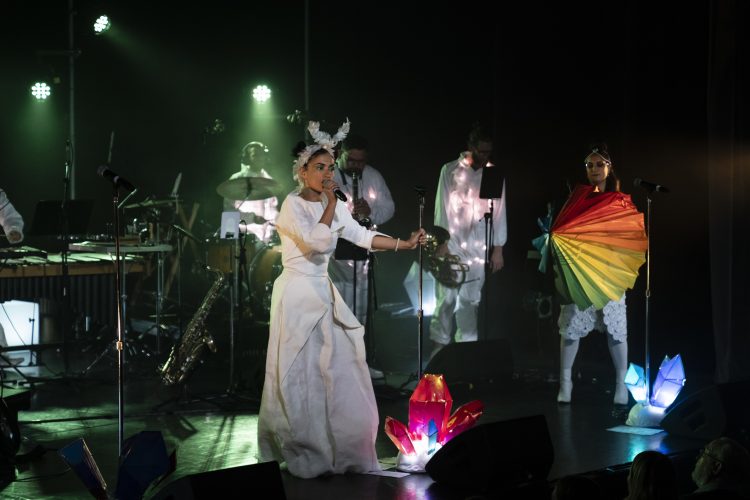 U
Past Tour: Tour-Makers presented Björk: All Is Full of Love in Christchurch, Wanaka (Festival of Colour), Dunedin (Dunedin Fringe Festival in March/April 2019 and Wellington, Nelson (Nelson Arts Festival), Hamilton and Hawke's Bay (Hawke's Bay Arts Festival) in October 2019. If you are interested in Björk: All Is Full of Love or any further shows by Blackbird Ensemble, please visit their website for more information.
Musical direction by Claire Cowan
Performed by Blackbird Ensemble with guest vocalists; Anna Coddington, Mara TK, and Priya Sami
Blackbird Ensemble, New Zealand's most inventive and theatrical chamber orchestra, presents an awe-inspiring homage to the inimitable Icelandic pop artist Björk.
In All is Full of Love, Blackbird Ensemble serves up an audio feast of Björk's finest songs across the decades, reimagining her much-loved classics from Debut through to Medulla and Utopia.
Taking to the stage with signature flair they showcase a fine cast of vocal talent, with extraordinary visual design to evoke the themes which provide so much inspiration to Björk herself.
The line-up includes the talent of singer-songwriter Anna Coddington, the psychedelic soul of Mara TK, and dream-pop artist Priya Sami from the Sami sisters. A band of strings, brass, woodwind, keys and percussion presents custom arrangements by Silver Scroll-winning composer/director Claire Cowan.
"The bijou spectacle of Blackbird Ensemble is something to hear and behold …, with frisky fiddles and punchy saxes… Don't miss out on the magic." -William Dart, NZ Herald
"Absolutely brilliant; musical execution in every regard quite superb…. a universe of musical textures. ….. it sounds mesmerising and magical and we are transported." – Penny Dodd, Theatreview
"This show is absolutely mesmerising." Anika Moa
Contains smoke/haze
Running Time: 90 mins no interval
---
Tour Media / Reviews 
22 February – Scoop / Blackbird Ensemble goes National with Björk homage show
OnMag / Thanks F*** It's Friday with Claire Cowan of Blackbird Ensemble 
12 October – RNZ / Blackbird Ensemble back with more Björk 
14 October – The Dominion Post / Take Flight with Claire Cowan and the Blackbird Ensemble
18 October – Off the Tracks Review 
"it is an immaculately selected curation. It's fairly immaculately performed too…this fantastic band absolutely nails it."
25 October – The Hook NZ review 
"There is whooping and hollering and standing ovations and the feeling of a deep appreciation for the ambition of what has been strived for here, what has been achieved.