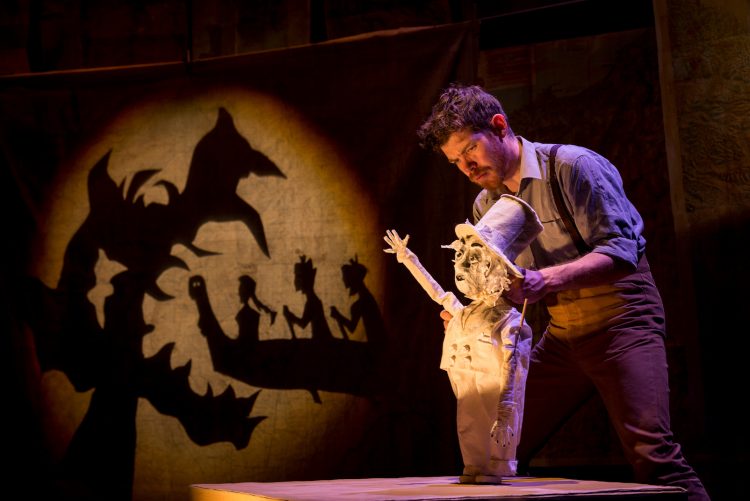 Past Tour:  Tour-Makers presented The Road That Wasn't There with Trick of the Light and Zanetti Productions in Blenheim, Christchurch, Oamaru, Tauranga, Gisborne, Napier, Palmerston North, Whanganui, Hamilton, Wanaka, New Plymouth, Invercargill and Te Anau April/May 2019. If you are interested in The Road That Wasn't There or any further shows by Trick of the Light Theatre, please visit their website for more information.
This is a story about a girl who followed a map off the edge of the world…
In New Zealand, there are some 56,000 kilometres of paper roads – streets and towns that exist only on surveyors' maps. Or do they? A young woman strays from the beaten track and finds herself in a paper world. It seems to be a land of possibility, but she soon discovers that things that happen in the fictional world can have frighteningly real consequences.
From award-winning company Trick of the Light Theatre (The Bookbinder) comes an original fairy-tale drawn from the twitchy edges of children's literature – a dark world reminiscent of the works of Neil Gaiman and the late (great) Margaret Mahy.
Combining puppetry, shadow play, and live music, The Road That Wasn't There is a curious tale for intrepid children (aged 8+) and adventurous adults.
"Charming, funny and haunting in equal measure…. a storytelling triumph." – Word on the Street
"Thoroughly enchanting and totally engrossing… a must see show." – The Dominion Post
---
Tour Media / Reviews 
4 April – Marlborough Express / Theatre's first show promises to be a showstopper as it steps out of the shadows 
4 April – Otago Daily Times review 
'It's a polished and charming tale for young and old'
18 April – Stuff.co.nz review Christchurch 
'Trick of the Light Theatre is a young company but, in this production, it reveals a maturity that many older companies would envy. Grab the chance to see them on stage. You won't be disappointed.'
13 May – The Hook NZ review 
'It is a meticulously constructed, beautifully designed and flawlessly performed "dark fairy-tale"'
13 May – Whanganui Chronicle / Following the Road That Wasn't There all the Way to Whanganui