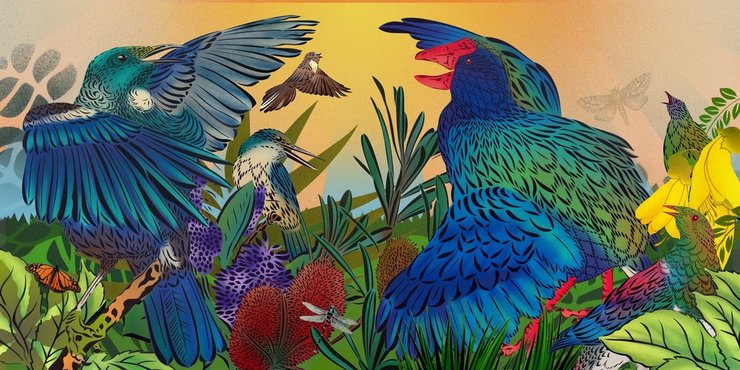 A Tu Meke Tūī! and Auckland Live production
Adapted from the children's book by Malcolm Clarke 
Original artwork by Flox  
Original direction by Renee Lyons
Co-Directed by Wesley Dowdell
Featuring Justin Haiu and Kieran Foster. More cast to be announced soon.
Adapted from the best-selling book Tu Meke Tūī!, join two unlikely heroes, Tere the excitable tūī and Taitū the flightless takahē, as they work together to outwit Stan, the sly stoat, who has a beady eye on our native birds for his dinner.
Set against a lusciously illustrated backdrop of Aotearoa's magical native wildlife, this beautiful story incorporating physical theatre and puppetry will teach young tamariki about friendship, courage, and discovering that sometimes it's our differences that make us truly special.
"The songs and dancing were a hit! My kids were bouncing about on their seats excited and felt involved in the show as it played out in front of them. On a serious note some of the more important themes of conservation where our native wildlife is in danger from the stoat and the use of Māori language (te reo), which is undergoing a much-needed revival in Aotearoa are important undertones in this incredible show." – Michelle Beard, pumpkinsintrees.com
Please note – Tu Meke Tūī! contains English and Te Reo Māori
Recommended for 3-8 Years 
Tickets for Gisborne, Te Tairāwhiti Arts Festival on sale late August
Image credit production photos: Ivan Muller